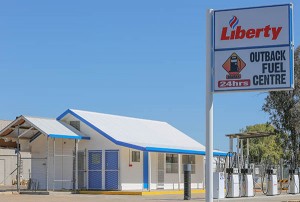 Located at the crossroads of the Mitchell Highway, Kamilaroi Highway and the Kidman Way, Outback Fuel Centre Bourke services the pastoral, irrigation, meat processing, transport and tourism industries in Bourke and the surrounding villages and localities, including Cobar, Brewarrina, Walgett, Wanaaring, Tilpa, Louth, Byrock, Nyngan, Fords Bridge, Hungerford.
Bulk fuel supply and deliveries, retail sales, convenience store, clean showers and toilets are all part of Bourke's Outback Fuel Centre range of customer services.
24 hour card system accepting all major credit cards, Shell Cards and Liberty cards.
New accounts
available.